$150.00
The Culinary Tour of France at Shiloh Manor Farm arrives in the Loire Valley on February 11, 2023 at 6:00 pm!  I hope you can join Chef Erik and I for this third dinner in our series exploring and sampling the culinary treasures of France!
Description
Gourmet meal *** Imported wines  ***  Imported cheeses   *** Live Bistro Music
Join us On February 11th at 6:00 pm for a memorable four-course Valentine Day dinner, inspired by the incomparable cuisine from Frances's Loire Valley!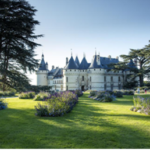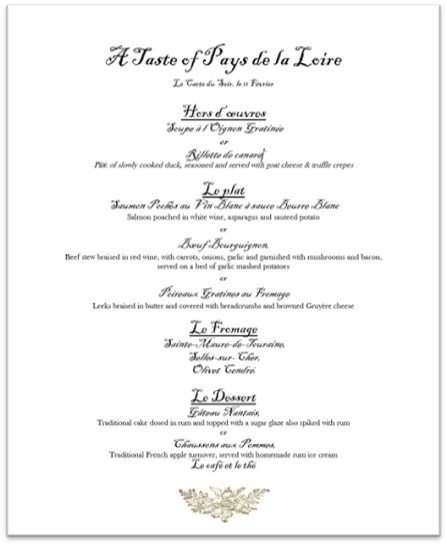 On its long course from the mountains of central France to the Atlantic Ocean, the Loire River flows through some of France's most fabled landscapes and history.  Connected for centuries with the French aristocracy, the region boasts hundreds of majestic chateaux, medieval towns with bustling markets, and some of the best wine and cheeses in the world.
Shiloh Manor Farm and The Polished Foxx catering are partnering to bring the authentic cuisine and imported cheese and wines of France's Loire Valley to Loudoun County!
Dinner starts with your choice of a traditional Soupe à l'Oignon Gratinée or Rillette de Canard.
Onion soup dates to the time of the Romans, but it became an art in the Loire!  Making an authentic French onion soup is an all-day affair, taking hours to caramelize the onions over a low heat to bring out their natural sweetness. It also always includes a shot of cognac along with croutons and a generous helping of grated Gruyère cheese, browned to perfection!  Rillette de canard is a signature dish of the Loire Valley!  It is a pâté made from duck meat that is slowly cooked until it falls apart.  It is seasoned and served with toasted baguette, and goat cheese – truffle crepes.  Both hors d'oeuvres and main courses entreés are paired with an imported Loire Valley Pouilly Fumé from Domaine Jonathan Didier Pabiot and Sancerre Cabernet Franc from Domaine de la Bergerie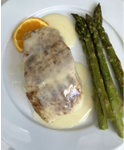 The second course, Le Plat, consists of your choice of Saumon Pochés au Vin Blanc (Salmon poached in white wine) with Beurre Blanc, an iconic Ligien sauce made from butter, shallots and white wine, served with fresh asparagus and sautéed potatoes, or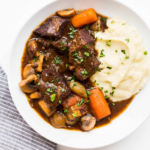 Bœuf Bourguignon, a beef stew braised in red wine, with carrots, onions, garlic and garnished with mushrooms and bacon, served on a bed of Purée de Pomme du Terre à l'Ail (garlic mashed potatoes).  As a vegetarian entrée, we are offering Poireaux Gratines au Fromage (leeks braised in butter and covered with breadcrumbs and browned Gruyère cheese).
Any authentic French meal always includes a course of regional cheeses.  For our Plat du Fromage we selected three Ligien classics: Sainte-Maure-de-Touraine, Selles-sur-Cher,  and Olivet Cendré.  A goat cheese shaped like a small log, and recognizable by the rye straw running horizontally through it, Sainte-Maure-de-Touraine has a lemony fresh and slightly nutty flavor.  Selles-sur-Cher is another highly regarded Loire Valley goat cheese.  It melts in your mouth with a touch of sweetness and salty notes.   Olivet Cendré is a cow milk cheese aged in wood ash (French: cendre) produced from the vineyard clippings, conveying an earthy scent and a smooth, delicate flavor.  Le Plat au Fromage is paired with a sparking Crémant de Loire from Domaine Maurice Bonnamy, located in the Loire Valley near Anjou.
The Taste of Pays de la Loire dinner concludes with your choice of classic Loire Valley desserts: Gâteau Nantais, a traditional French Genoise cake dosed in rum and topped with a sugar glaze also spiked with rum, or Chaussons aux Pommes, a traditional French apple turnover, both served with homemade butter-rum ice cream and coffee and tea. Live French bistro music accompanies dinner.
Chef Erik and I hope you can join us for a memorable evening of authentic French cuisine, imported wine and cheese, and live bistro music!  A perfect dinner experience to celebrate not only a new year, but also Valentine's Day!   Seating is limited!  Tickets are $150/plate and available at www.shiloh-manor.com.
A bientôt!
Nick Donnangelo
The Culinary Tour of France at Shiloh Manor Farm
A Taste of Pays de la Loire