Description
French food and wine are famous worldwide, but what is not often appreciated is that French cuisine is heavily influenced by the different regions of France.  Shiloh Manor Farm and The Polished Foxx catering are teaming up to host a Culinary Tour of France where we are featuring the most iconic French cuisine paired with imported wine and cheese from the French regions of Provence, Alsace, Normandy, Loire Valley and Bearn to create an authentic French dining experience!  Live music at each event!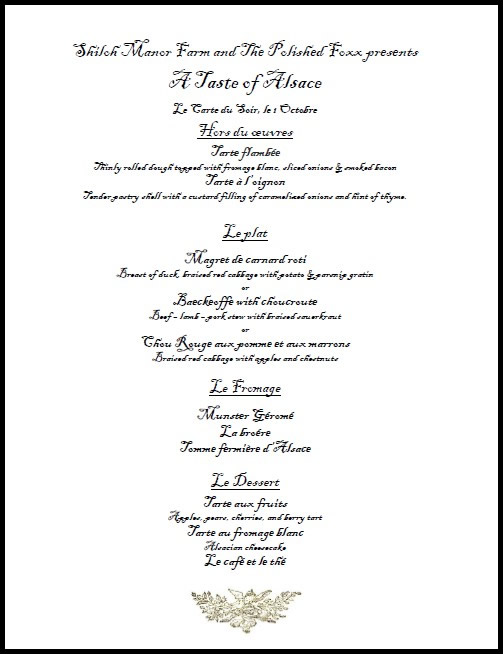 On October 1 the Culinary Tour is featuring the hardy and delicious cuisine of the Alsace region of France.  Bordering Switzerland and Germany, Alsace is home to a French food heavily influenced by German cooking tradition.  It is completely different from the cuisine of any other part of France!
Our authentic Alsacian menu for the evening beings with a first course of Tarte Flambée, a thinly rolled dough topped with Fromage Blanc, sliced onions and smoked bacon, and Tarte à l'Oignon, a tender pastry shell with a custard filling of caramelized onions and a hint of thyme.  This first course is paired with imported Domain Willm Grand Cru Kirchberg.  Domain Willm, located in in Eguisheim, produces some of the region's best-known wines for over a century.  We are fortunate to be able to feature their wines in our program!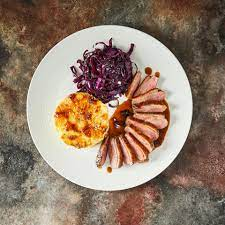 The main course consists of your choice of: Magret de Carnard Roti, breast of duck, served with braised red cabbage and potato & parsnip gratin, or Baeckeoffe, a hardy beef – lamb – pork stew that is one of the signature dishes of Alsace served with Choucroute or braised sauerkraut.  As a vegetarian selection we are offering Chou Rouge aux Pomme et aux Marrons, braised red cabbage with apples and chestnuts.  Our dinner entrées are paired with an Alsacian red wine, a Pinot Noir also by Domain Willm.  The cheese course features imported three Alsacian classics: Munster Géromé (yes, Munster cheese comes from the Alsace region!), La Broére (a bit like gruyere) and Tomme Fermière d'Alsace, paired with a fabulous sparking Alsacian Crémant by Domain Arthur Metz in Marlenheim, France.  We conclude the Taste of Alsace dinner with your choice of a mixed fruit tart topped with homemade cinnamon-kirsch ice cream or Tarte au Fromage Blanc, a decadent Alsacian cheesecake, along with coffee and tea.  Live French bistro music (with a hint of Octoberfest!) accompanies dinner!  We hope you can join us for a Taste of Alsace!