Description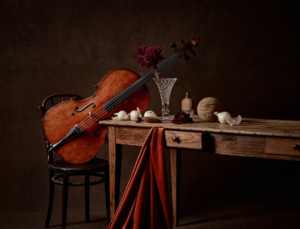 After a dreary, dark, and cold winter, how welcoming and beautiful are the daffodils blooming in the still chilly sun, and the swelling buds on the fruit trees.  Spring is in the air!!  What better way to celebrate the lengthening days and fragrant breeze than an elegant evening filled with the magical sound of harpsichord and baroque cello!   The Wheatland Concert Series at Shiloh Manor Farm will open its 2023 season on April 22, 2023, starting at 6:00 pm.  We are featuring the sensuous cello sonatas of Johann Sebastien Bach, Giovanni Bononcini, and Antonio Vivaldi.   Seating is limited!  Please join us for a candlelit evening of beautiful music, exquisite French cuisine and wine, and the company of neighbors and friends!
The history of the cello begins in mid-16th century Italy where it evolved  from its earlier cousins, the viola da braccio and the viola de gamba.  By 1710 the instrument experienced an explosion in popularity, replacing the earlier viola de gamba as the bass instrument of choice in the Baroque repertoire.  Bach composed six cello suites between 1717 and 1723.  Antonio Vivaldi composed at least 10 cello sonatas between 1720 and 1730.  Giovanni Bononcini and his younger brother Antonio were considered by their contemporaries to be among the most outstanding cello virtuosi of their time.  Only one Giovanni Bononcini cello sonata is known, composed shortly before his death in 1748.  But in 1996 a volume of 15 cello sonatas by Antonio was discovered and published, some dating to 1693, making them the earliest known cello compositions.
These airy and strikingly beautiful pieces are masterfully performed by cellist Peter Kibbe.  Mr. Kibbe performs with The Baltimore Chamber Orchestra and the Annapolis, Maryland, and Baltimore Symphonies.  He is joined by Professor Mark Janello on harpsichord.  Dr. Janello has served on the music theory faculty at The Johns Hopkins University Peabody Institute in Baltimore since 2002.  Dr. Janello also performs with the Baltimore Symphony, the Post-Classical Ensemble, The Washington Bach Sinfonia, and the Georgetown University Chamber Singers.
Continuing the Wheatland Concert Series tradition, we will enjoy these period masterpieces with an exquisite traditional French spring meal prepared by Chef Erik Foxx Nettnin of The Polished Foxx.  Our selected menu for the evening begins with Gorgères Gruyère (Gruyère baked into a rich puff pastry with a bechamel sauce) and caviar canapés, followed by an entrée of Poulet a l 'Estragon (local spring chicken with a tarragon cream sauce) served on a bed of rice pilaf and haricot vert, served with imported French wines.  Dessert will be assorted French patisserie, with coffee and tea.   A vegetarian entrée is available upon request.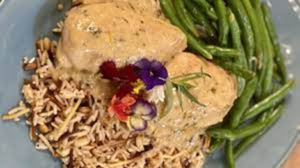 Our goal at the Wheatland Concert Series at Shiloh Manor Farm is to enjoy community around chamber music and fine French dining.  Classical music is not the dusty legacy of our ancestors.  Music is a language, that communicates to us a beauty that transcends time, language, and culture.  Music celebrates the best of human nature.
Shiloh Manor Farm has been a focal point of community in western Loudoun County for nearly 300 years.  What better place to celebrate timelessness of beauty and culture than under the ancient stone walls and hand hewed timbers that have withstood the centuries together.  We hope you will join us for an elegant and enriching evening!