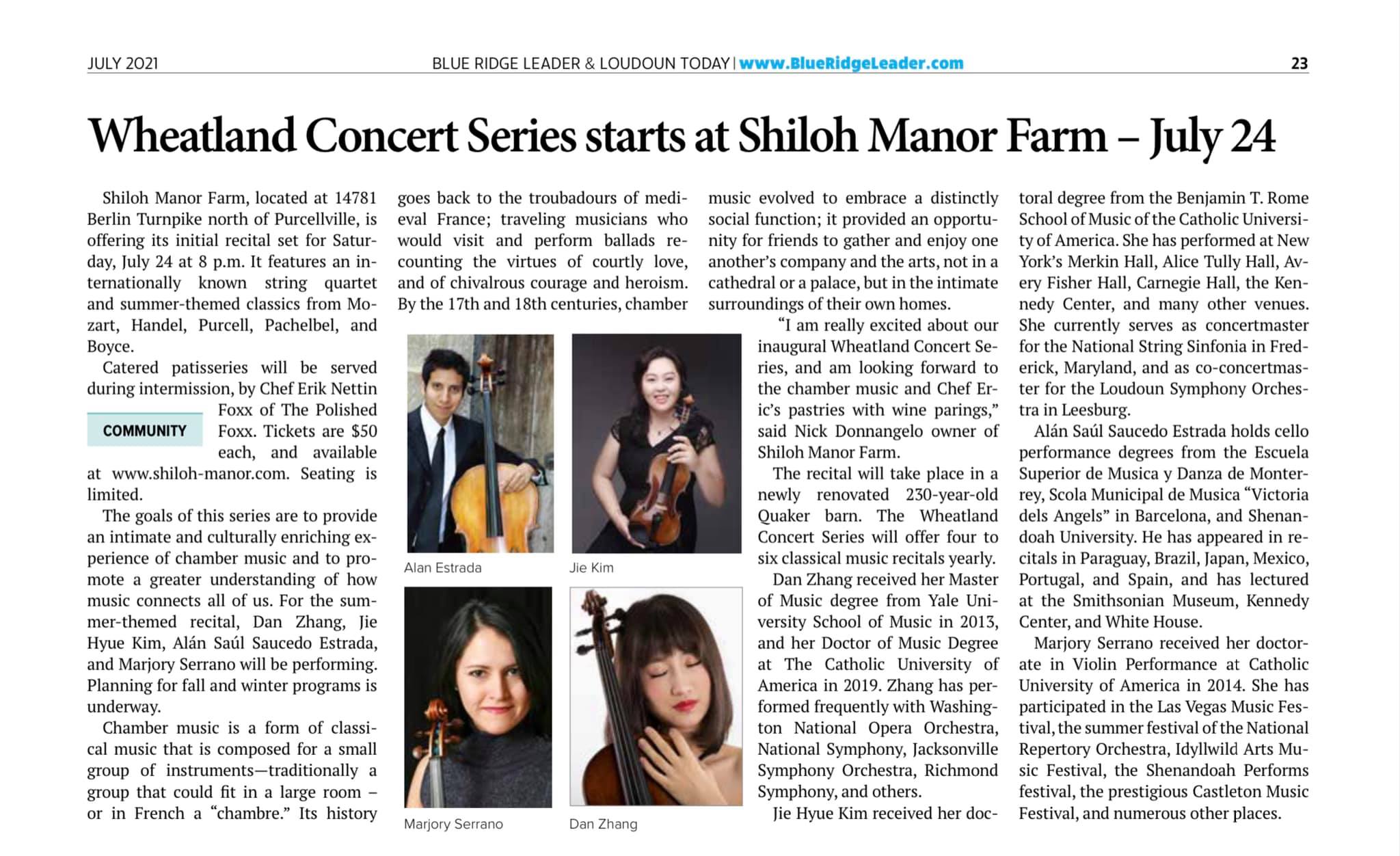 Wheatland Concert Series at Shiloh Manor Farm:  Program guide
In anticipation of the Wheatland Concert Series at Shiloh Manor Farm chamber music recital on July 24, I thought I would provide a little history and context to the musical compositions that will be performed.  Classical music can be broadly characterized as sacred or secular.  Sacred music was intended to be played in the immense cathedrals that dotted Europe.  The medievalchurch was wealthy and highly influential and the artists they patronized produced thousands of spectacularly beautiful compositions designed to inspire awe.  Secular music was also commonly religious themed but composed to be played in royal courts or other non-church environments.  One species of secular music was chamber music.  While not the music of the common working man/woman, chamber music was not court music either:  it was composed to be played by small ensembles in the homes of lesser nobility or the emerging middle class.  It filled an important void and allowed cultured people to share one another's company and enjoy an experience that previously had been limited to kings!  For the Wheatland Concert Series at Shiloh Manor Farm,we selected some of the best-known chamber works of the Baroque era to enjoy with you on July 24th.
Mozart: Divertimento in D Major
Wolfgang Amadeus Mozart was born in Strasburg in 1756.  Mozart composed his first piece at age 5 and despite his early death at age 35 in 1791, he wrote more than 600 compositions covering virtually every musical genre of his time.  Many of his compositions are known as pinnacles of the symphonic, concertante, chamber operatic and choral repertoire.  Mozart's Divertimento in D Major was composed in 1772 while he was concertmaster of the court orchestra.  This Divertimento is in three movements fast – slow – fast after the manner of Italian sinfonia.  He probably wrote this for one of the musical evenings held in the homes of Salzburg'sleading residents at which he frequently performed on both the keyboard and violin.  
Handel: Sarabande in D Minor
Georg Fredrick Handel (1685-1759) was a German composer renowned for his operas, oratorios anthems and concertos.  While he settled permanently in London in 1712, Handel's works werestrongly influenced by middle German polyphonic choral tradition and by composers of the Italian Baroque.  He is widely considered one of the finest composers of the Baroque era.  It is hard to believe that the stately Sarabande was originally thought to be a degenerate influence. It was described in "Treatise Against Public Amusements" in 1609 as "…enough to excite bad emotions in even very decent people."  The Sarabande probably had its origins in Central America in the 16th century.  It was banned by King Philip of Spain in 1583 for being "obscene," but the genre spread to Italy where it was incorporated into numerous Italian Baroque compositions.  Thanks to both Handel and Bach, who used it in their suites of dances, the Sarabande found its way to France, where it became a popular (and very fashionable!) slow dance.  George and Martha Washington and their guests would dance to this at Mount Vernon!
Handel: Arrival of Queen of Sheba
The arrival of the Queen of Sheba premiered in London on March 17, 1749, as the first scene of Act III in Handel's oratorio Solomon.   While Solomon never commanded the renown of some of his other works such as Messiah, the bright and lively Arrival of the Queen of Sheba is a widely appreciated processional piece that still is played at weddings.  A noted public performance of the piece occurred during the opening ceremonies of the London Olympic Games in 2012.
Handel: Passacailo 5:00​
The term passacaglia derives from the Spanish paser (to walk) and calle (street).  It originated in the early 17th century Spain as a strummed interlude between instrumentally accompanied dances or songs.  Despite its origin in Spain, the first written examples of the passacaglias are found in Italian music dated 1606 (hence passacailo, in Italian).  The essential feature of a passacaglia isshort, resolved chord progressions repeated over and over as a continuous harmonic bedrock for a series of improvisations.  Handel's Passacailo is the last movement of his Keyboard Suite No 7composed in 1720.  
Handel: The Music of the Royal Fireworks, La Rejouissance 2:45
Music of the Royal Fireworks is a suite in D Major composed by Handel in 1749.  The music celebrates the end of the War of Austrian Succession, a war we hear little about in the U.S. but left a wide swath of destruction across Europe with more than a million dead or maimed.    The Royal Fireworks Music was very popular when first performed. Following Handel's death in 1759, Mozart called this composition a "spectacle of English pride and joy."  La Rejouissance is the 4th movement of The Royal Fireworks Music.
Purcell: Sonanta 8 in G Minor 5:23
While he died before his 36th year in 1695, Henry Purcell is regarded as one of England finest composers. He composed the Sonata in G Minor in 1683, at the height of his short career.  Purcell's sonatas are among the cornerstones of Baroque chamber music.  The composer himself unassumingly described them as "…just an imitation of the most famed Italian masters."  However, Purcell's modesty hides what is recognized today as a unique blend of Italian modelsintegrated with complex English traditional compositional devices and his own obsession with compositional and contrapuntal technique.  
Pachelbel: Canon in D Minor 5:00
Johann Pachelbel (1653-1706) was a German composer, organist and teacher.  He composed a large body of sacred and secular music. Neither the date nor the circumstances of the composition of his Canon in D Minor are known with certainty, but the suggested composition dates range from 1680 to shortly before his death in 1706.  Pachelbel was renowned in his lifetime for his sacred organ and keyboard music but sadly little of his chamber music survived.  The Canon in D Major was nearly lost to history, but was rediscovered in 1919 by scholar Gustav Beckmann, who included the score in an article he wrote on Pachelbel's artistic legacy.
Boyce Symphony 1 7:35
William Boyce (1711 – 1779) was the son of a London cabinet maker.  His extraordinary musical talents were appreciated early in his life, and he composed hundreds of sacred and secular pieces.By the mid-1750s Boyce was appointed Master of the Kings Music, responsible for writing compositions for royal occasions such as funerals, weddings and coronations.  He famously refused to write a coronation anthem for George III in 1761 on the grounds that Handel's Zadok the Priest was unsurpassable.  As a consequence, Handel's setting has been played at every subsequent British coronation.  Among his works, Boyce composed 8 symphonies that are probably the most played and loved of any English Baroque compositions.  His Symphony 1 in B Major – originally titled Ode for the New Year – is derived from "Hail, Hail Auspicious Day," written by the British Poet Laureate Colley Cibber to welcome in 1756.  
My family and I are looking forward to seeing you on the 24th and enjoying these beautiful compositions together with you!